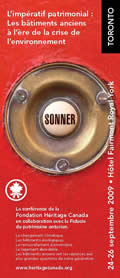 L'impératif patrimonial: Les bâtiments anciens à l'ère de la crise de l'environnement
La Conférence 2009 de la fondation Héritage Canada, qui a eu lieu du 24 au 26 septembre 2009 à l'hôtel Fairmont Royal York de Toronto, a été un grand succès. Plus de 300 délégués de partout au pays ont assisté à un éventail de séances, ateliers et visites axés sur un même thème : comment intégrer au mieux les bâtiments historiques à un plan d'action écologique. Des conférenciers et présentateurs inspirants ont parlé aux participants de la façon dont la réhabilitation et la réutilisation d'immeubles plus anciens et de quartiers existants peuvent aider à sauver la planète – tout en réunissant les mouvements de la défense de l'environnement et de la conservation architecturale.
Les buts de la conférence ont été réalisés : favoriser la compréhension, engendrer de l'énergie et créer des liens entre tenants des mouvements pour l'environnement, la durabilité et le patrimoine.
Programme de la conférence
Présentations
Entreprises/Organismes représentés
Parrains
Parrains de catégorie supérieure
Parrains d'événements spéciaux
Commanditaires de séance
Parrains des visites guidées à pied
Adeptes de la conférence
Présentations de la conférence de 2009 L'échantillon de présentations est en ordre alphabétique. Pour de plus amples renseignements sur l'ordre des présentations et les séances auxquelles elles ont été offertes, veuillez consulter le programme de la conférence. Veuillez noter que les présentations sont disponibles seulement dans la langue de présentation.
Christopher Borgal. Goldsmith Borgal and Company Ltd. (Toronto, ON)
• Patrimoine, Environnement, Réalité, et le dilemma de Windows 1,084.
Louis-Daniel Brousseau. Ville de Québec. (Québec, QC)
• La « Cité verte» de Québec, une collectivité durable en devenir.
Darryl Cariou. Ville de Calgary (Calgary, AB)
• Présentation sur la conférence.
Quentin Chiotti. Pollution Probe (Toronto, ON)
• Changement climatique et les bâtiments du patrimoine : comment l'utilisation du passé peut nous aider à nous préparer à un changement de climat futur.
Stephen Collette. Your Healthy House (Peterborough, ON) and David McAuley. J David McAuley Architect (Guelph,ON)
• L'écologisation de lieux sacrés : créer des outils pour les communautés religieuses.
Bruce Cox. Greenpeace Canada (Toronto, ON)
• Le réchauffement changera tout.
John Dam. Read Jones Christoffersen (Victoria, C-B)
• La simulation par ordinateur comme outil de soutien décisionnel dans la réutilisation adaptée de structures patrimoniales.
Carl Elefante. Quinn Evans Architects (Washington, D.C.)
• Maturation du paradigme de « l'immeuble le plus vert » : la nécessité de transformer la conservation.
Shawky Fahel. JG Group (Waterloo, ON)
• Patrimoine et intensification : surmonter les obstacles au réaménagement.
Joey Giaimo. E.R.A. Architects (Toronto, ON)
• Repenser le passé récent : L'adaptabilité des bâtiments du patrimoine moderne face aux besoins actuels et futurs.
Sarah Gray. Halsall Associates (Brantford, ON)
• Les immeubles en péril : évaluation de l'opportunité de conserver des bâtiments patrimoniaux sur d'anciens sites industriels.
Melanie Hare. Urban Strategies (Toronto, ON)
• Intensification dans les vieux quartiers : gestion de la croissance tout en préservant le patrimoine.
Christopher Harrison and Matt Johnson. Vermeulen Hind Architects. (Ottawa, ON)
• Écologisation des vieux immeubles : comment les objectifs d'énergie et d'intégrité patrimoniale ont été atteints pour un immeuble de campus.
Stephen Hazell. Sierra Club du Canada (Ottawa, ON)
• Défense efficace des bâtiments du patrimoine au siècle du climat.
Nicholas Heap. Fondation David Suzuki (Vancouver, C-B)
• Nouveau climat, anciennes communautés : quelques premières impressions sur les occasions et les difficultés.
Hans Honegger and Carolyn Butts. Bon Eco Design (Tamworth, ON)
• Motifs locaux en ces temps difficiles.
Jennifer Iredale. Direction du patrimoine de la Columbie–Brittanique (Victoria, C-B)
• Demeures patrimoniales et programme de rénovation écoÉNERGIE. Point de vue de la Columbie-Britannique.
Mike Layton. Environmental Defence (Toronto, ON)
• Éléments constitutifs : codes, politiques et programmes d'écologisation du Canada.
Lori Martin. City of Toronto (Toronto, ON)
• Réutilisation adaptée du Wychwood Car Barns.
Ting Pan. Recollective Consulting (Vancouver, C-B)
• En quête de l'Or LEED à Vancouver : Étude cas de bâtiments écologiques actuels à Vancouver.
Paul Sapounzi. Ventin Group Architects (Brantford, ON)
• Les autres piliers : Durabilité sociale et économique. Réhabilitation et création d'emplois locaux.
Alex Speigel. ONE Development (Toronto, ON)
• Transformation du marché : leçons écologiques pour les immeubles patrimoniaux.
Melissa Stickl. Carleton University. (Ottawa, ON)
• Un esprit de subsistance culturelle pour l'ouest de la Basse-Ville d'Ottawa.
Diane Switzer. Vancouver Heritage Foundation (Vancouver, C-B)
• Une nouvelle vie pour les vieux immeubles.
Wayne Trusty. ATHENA Sustainable Materials Institute (Merrickville, ON)
• Conservation des bâtiments : Enjeux et effets sur l'environnement.
Hilary Van Welter. Windfall Ecology Centre (Aurora, ON)
• Les immeubles patrimoniaux : un foyer d'innovation.
François Varin. Fondation Rue principales. (Québec, QC)
• L'approche du programme Rues principales : établir une vision de l'avenir fondée sur les avoirs locaux et l'identité culturelle.
Jessica Webster. Ressources naturelles Canada (Ottawa, ON)
• Utilisation résidentielle de l'énergie dans les vieux quartiers : conclusions du projet des Archétypes urbains.
Tim Weis. Pembina Institute (Gatineau, QC)
• L'opportunité et la nécessité de l'énergie renouvelable dans les immeubles patrimoniaux.
Entreprises/Organismes représentés
A-D
ACO Hamilton
Aird and Berlis LLP
Allan Avis Architects Inc.
Architectural Conservancy of Ontario
Art Gallery of Ontario
Archaeological Services Inc.
Association of Heritage Industries Newfoundland and Labrador
Athabasca University
Athena Sustainable Materials Institute
Atlas Corporation
Aylmer Heritage Association
Barry Padolsky Associates Inc., Architects
BC Heritage Branch - Ministry of Tourism, Culture and Arts
Alberta Historical Resources Foundation
Bon ECo Design
Broadway Business Improvement District
Calgary Heritage Initiative Society
Canada Green Building Council
Canadian Association of Heritage Professionals
Canadian Forum for Public Research on Heritage
Cape Breton Regional Municipality
Carleton University
Catherine Nasmith Architect
Chris Tossell, Architect
Cintec Canada
City of Burlington
City of Calgary
City of Charlottetown
City of Edmonton, Planning and Development Department
City of Guelph
City of Guelph
City of Hamilton
City of Kingston
City of Miramichi
City of Moncton, Building Inspection Department
City of New Westminster
City of Ottawa
City of Peterborough
City of Regina
City of St. Catharines
City of St. John's
City of Toronto
City of Victoria
City of Windsor
City of Yellowknife
Civitas Architecture Inc.
Clifford Group
Colonial Building Restoration
Commonwealth Historic Resource Management Ltd.
Community Heritage Ontario
Conestoga College Institute of Technology and Advanced Learning
Conseil du patrimoine religieux du Québec
Conservation Review Board, Ontario
Cove Island Lightstation Heritage Association
Creative Colony
David Suzuki Foundation
Department of Canadian Heritage - Ontario Region
Dept of Environment and Resource Management, Queensland, Australia
DFS Architecture and Design
du toit architects Ltd
E-L
Ecclesiastical Insurance Office plc
Ecology Action Centre
Ecoplans Limited
Edwards Heritage Consulting
Environmental Defence
ERA Architects
Eve Guinan Design Restoration
Evergreen
Faith & the Common Good
Fédération des sociétés d'histoire du Québec
Foundation Rues Principales
Fournier Gersovitz Moss & Associates
George Robb Architect
Goldsmith, Borgal & Company Architects
Government of Canada
Government Newfoundland and Labrador
Government of Alberta
Government of Yukon
Greenpeace Canada
Halcrow Yolles
Halifax Regional Municipality
Hallmark Society
Halsall Associates Ltd.
Halton Region Museum
Heritage BC
Heritage Branch, Wellness, Culture and Sport, Province of New Brunsiwck
Heritage Collaborative Inc.
Heritage Conservation Directorate, PWGSC
Heritage Foundation of Newfoundland and Labrador
Heritage Guelph
Heritage Kincardine
Heritage North Grenville
Heritage Ottawa
Heritage Port Hope Advisory Committee
Heritage Resources Centre Waterloo
Heritage Toronto
Heritage Trust of Nova Scotia
Hintonburg Community Association
Historical Society of Alberta
House of Commons
IBI Group
Institut du patrimoine, UQAM
Inuit Heritage Trust Inc.
J D Strachan
J. David McAuley Architect Inc.
James Bailey Architect
JG Group of Companies
John Ingrao Architect
Jonathan Yardley Architect Inc.
LACAC Heritage Whitby
Laurie Smith Heritage
Lehman & Associates
Len Ward - Architecture
Limen Group
Lundholm Associates Architects
M-R
Manasc Isaac Architects Ltd
Mark Thompson Brandt Architect & Associates
Martindale Planning Services
McGillivray Architect
Ministry of Culture, Ontario
Ministry of Energy and infrastructure, Ontario
Ministry of Municipal Affairs & Housing, Ontario
Mississippi Mills Heritage Committee
Moncton Preservation Review Board
MTBA & Associates
National Capital Commission
National Historic Sites Alliance - Ontario
Natural Resources Canada
Newfoundland Historic Trust
Nexus Architects
Dept. of Municipal Affairs, Newfoundland and Labrador
North York Community Preservation Panel
Nova Scotia Community College
Nova Scotia Lighthouse Preservation Society
Old Strathcona Foundation
Old World Stone Limited
ONE Development Corporation
Ontario Growth Secretariat, Min. of Enery and Infrastructure
Ontario Heritage Trust
Ontario Historical Society
Ontario Ministry of Agriculture, Food and Rural Affairs
Ontario Ministry of Culture
Ontario Power Authority
Ontario Realty Corporation
Parks Canada
Partners for Sacred Places, Philadelphia, USA
Pembina Institute
Petrolia Heritage Committee
Pollution Probe
Prince Edward Island Museum and Heritage Foundation
Public Works & Government Services Canada
Quinn Evans Architects, USA
Read Jones Christoffersen Ltd.
Recollective Consulting
Region of Waterloo
Roof Tile Management Inc.
Royal Fort Restoration Inc.
Ryerson University
S-Z
Saskatchewan Institute of Applied Science and Technology
Saskatoon Heritage Society
School of Urban and Regional Planning
Sensible Design
Sierra Club of Canada
Simon Chamely Architect
SJMA ARCHITECTURE INC
Spencer R Higgins Architecct Inc.
Stevens Burgess Architects Ltd.
Stewardship Programs and Promotion, Government of Nova Scotia
Surrey Heritage Advisory Commission
Taylor Hazell Architects
The Corporation of Massey Hall and Roy Thomson Hall
The Corporation of the City of Kingston
The Ventin Group (Toronto) Ltd.
Town of Aurora
Town of Caledon
Town of Cobourg
Town of Collingwood
Town of Markham
Town of Oakville
Town of Pelham
Town of Truro
Treemont Heritage Properties Inc.
Toronto Transit Commission
University of British Columbia
Universidad Gabriela Mistral - Chile
Université Laval
Université de Montréal
University of Victoria
University of Waterloo
UQAM
Urban Strategies
Vancouver Heritage Foundation
Vanier College
Ventin Group Architects
Vermeulen Hind Architects
Ville de Quebec
Waterloo Regional Heritage Foundation
Westmount Historical Association
Willowbank School
Windfall Ecology Centre
Woodstock Museum National Historic Site
York University
Yukon Historical & Museums Association